Gent Bad — research, installation — 2023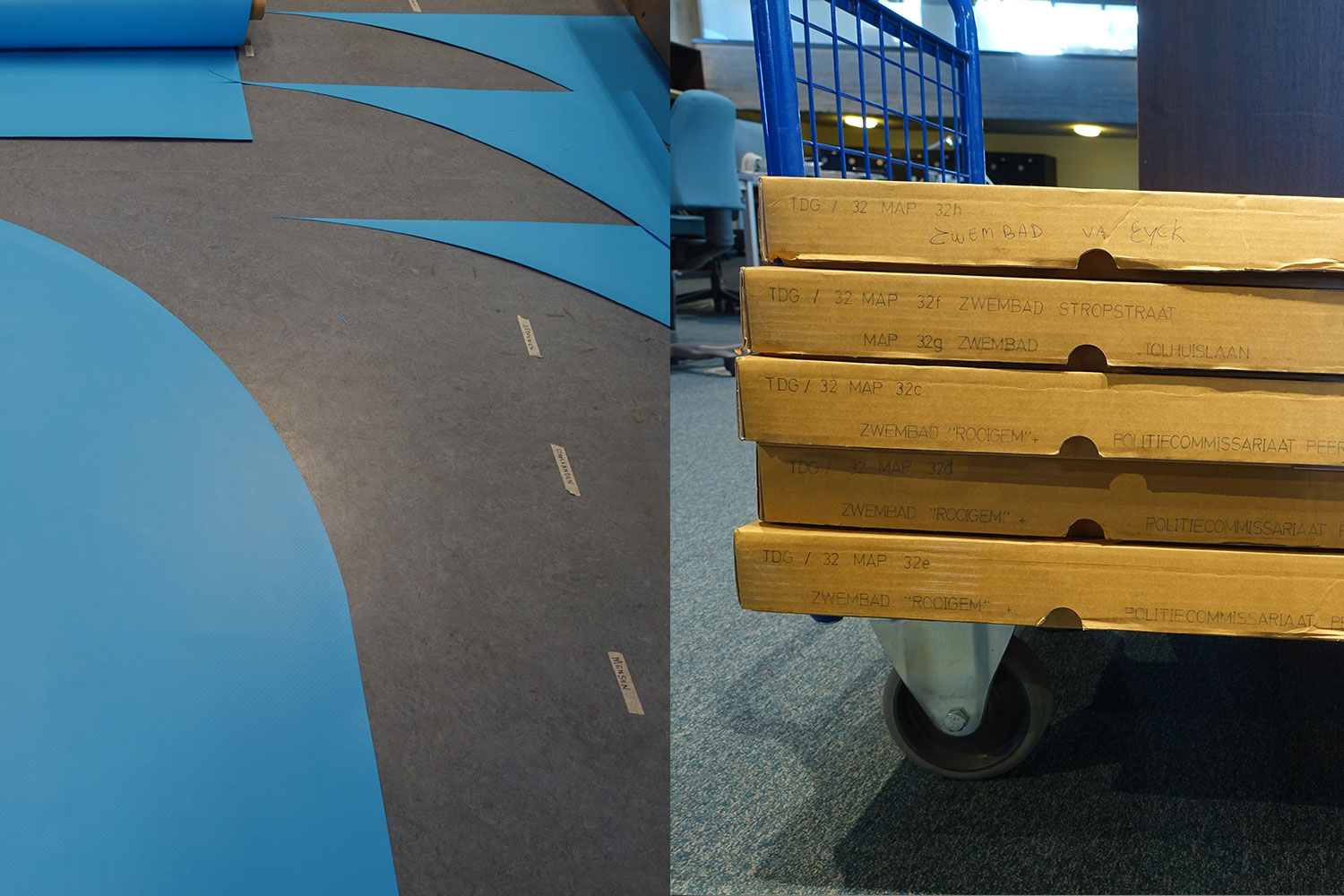 In the hot summer of 2020, the corona crisis and the resulting travel ban forced us into a staycation. On hot summer days, people looked for refreshment in the surrounding area, but cool swimming water turned out to be much scarcer than expected.
Until the 1960s, however, vacations at home were the norm rather than the exception. During those bygone vacation days close to home, one could easily take a refreshing dip in a nearby river or pond, or spend the afternoon on the sun-drenched sunbathing lawn of the public outdoor pool nearby. Over time, private swimming pools in one's own yard seem to have multiplied, while outdoor public swimming is becoming increasingly rare.
With
Gent Bad
I explore the vacation feeling close to home by imagining a bathing resort as a meeting place in my everyday environment: the urban, public space of Ghent.
This visual research results from a collection of diverse material: satellite images, photographs from city and museum archives and personal collections of inhabitants of Ghent, old building plans, my own visual material, film stills,... By cutting up these diverse images and combining them in a spatial composition, the former Ghent bathing resorts enter into dialogue with the current shortage of swimming water. Different layers of time come together and make us think about future possibilities.
With the support of FORMAT 2023, the coaching programme of Z33: House for Contemporary Art, Design & Architecture in Hasselt
Stories of Product Innovation — exhibition design — 2022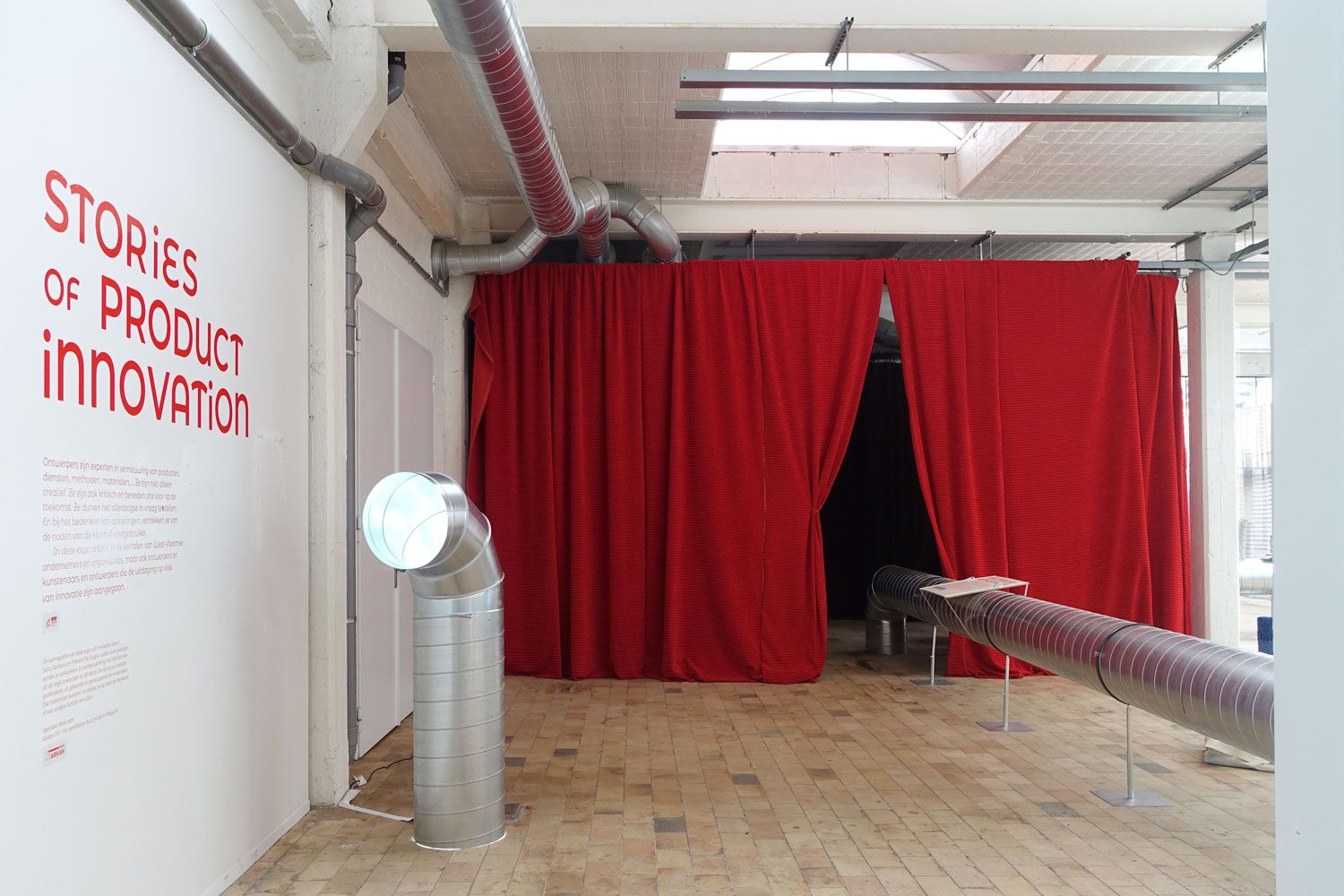 Exhibition design for Stories of Product Innovation at WONDER Kortrijk.

An overwhelming setting celebrates innovation and encourages wonderment. An impressive structure of ventilation ducts guides the visitors through the space and serves as a support system for the various exhibited projects. The structure is visually complemented with classy velvet curtains, a powerful typography in bright red and shinny mirrors.

The exhibition design overwhelms without wasting. Once the exhibition was finished, the borrowed ventilation ducts could return to the manufacturer.



In collaboration with Manon De Cuyper
Commisioned by Designregio Kortrijk
Sponsored by Airkan NV
Last picture by Jonas Verbeke
Exercises in Accessibility — publication — 2022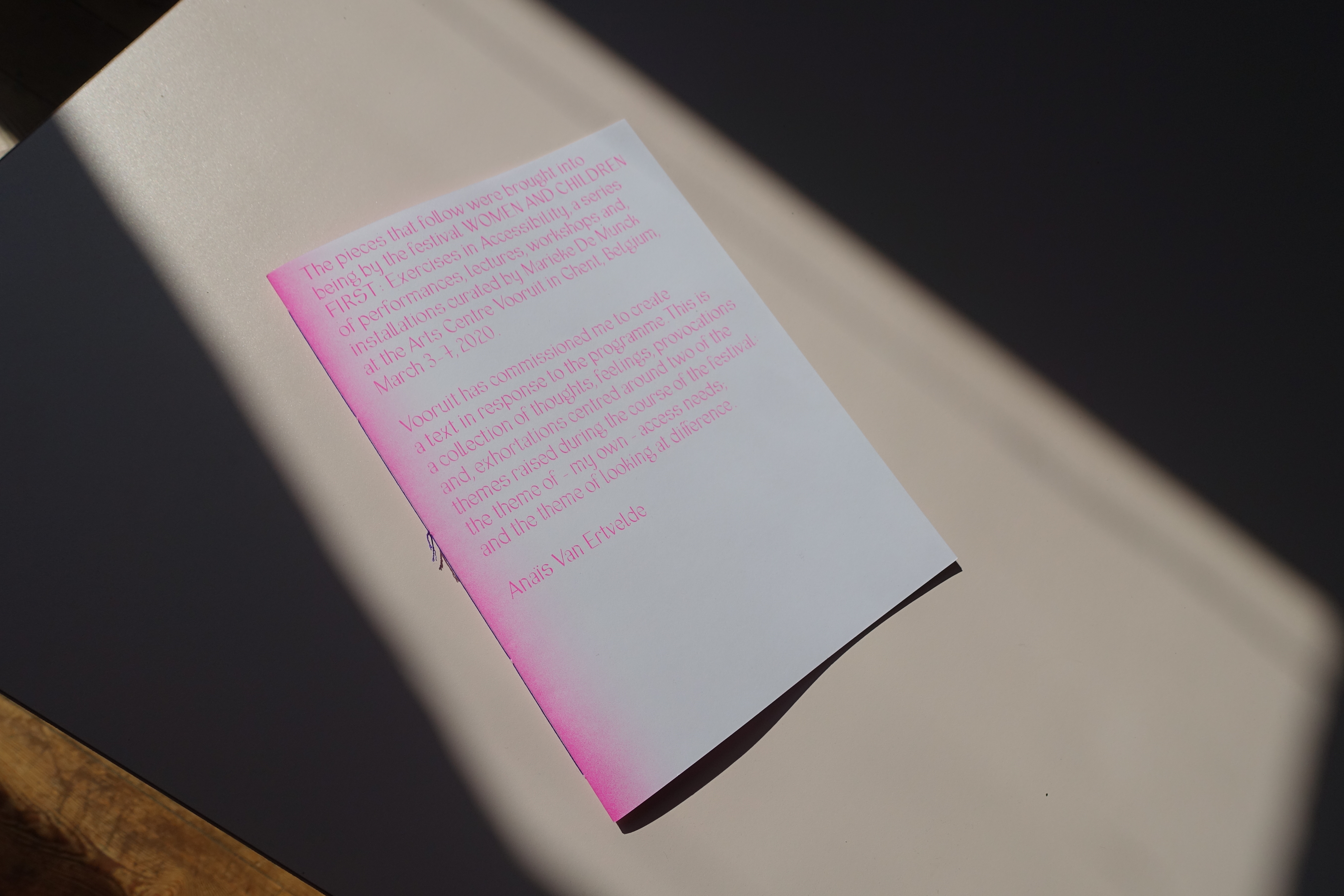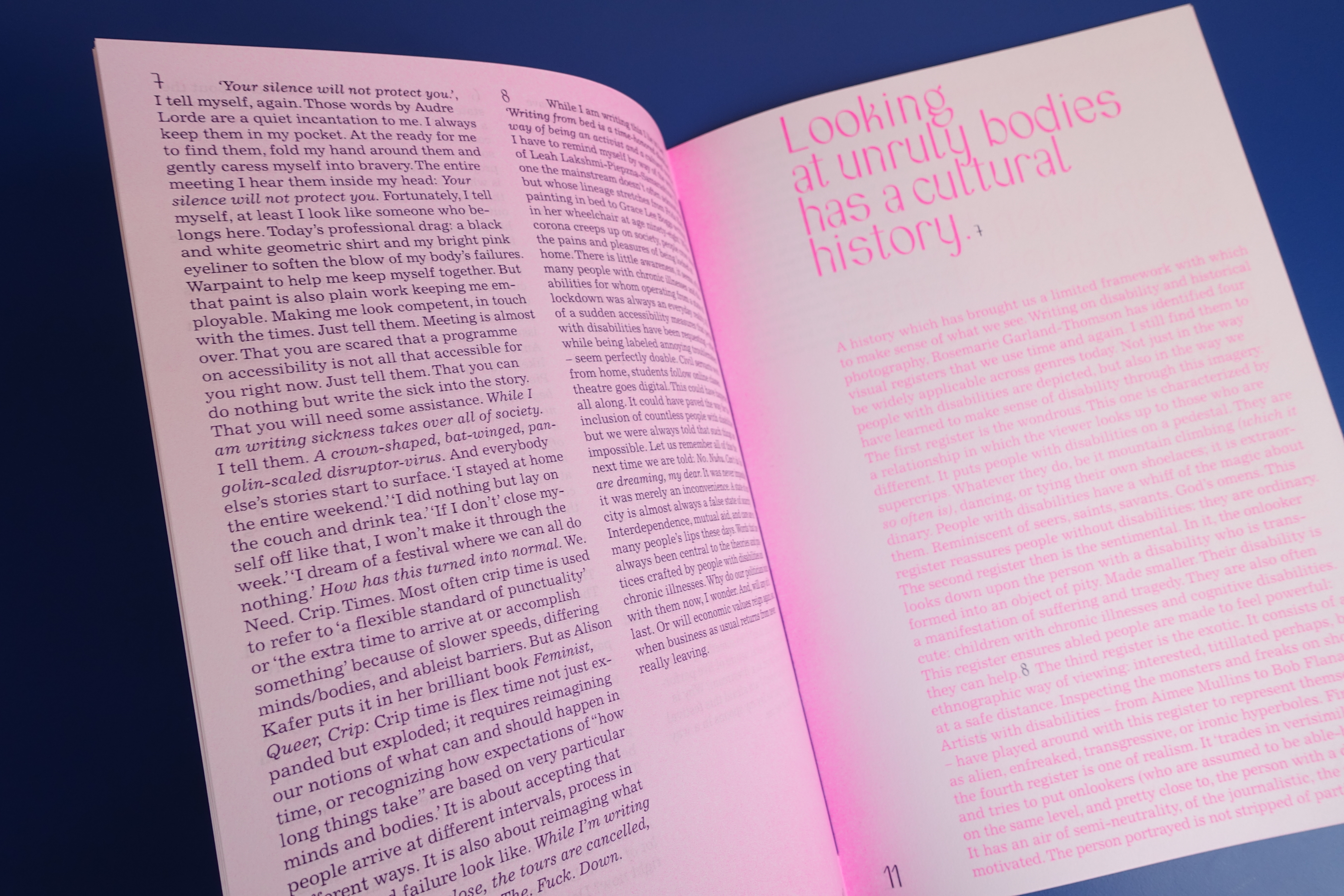 Publication design for a text by Anaïs Van Ertvelde who wrote a collection of thoughts, feelings, provocations and exhortations centred around two of the themes raised during the course of the festival: the theme of – her own - access needs; and the theme of looking at difference.
By risoprinting the main text in fluo pink, and the elaborate text in purple notes, the two storylines smoothly alternate and interact. A hybrid and fluid typeface is used to highlight titles and phrases. Vibrant gradients over the pages and a purple binding make the publication into a visual whole.
Commisioned by Mar

ieke De Mu

nck
Brought into being during the festival WOMEN AND CHILDREN FIRST: Exercises in Accessibility, at VierNulVier, Ghent
Risoprinted by Topo Copy
Combine font designed by Julie Patard
Paysage Sauvage — diorama, scenography — 2021
This diorama offers s a look behind the scenes of a touristic image-forming process that derives from a colonial history. Paysage Sauvage aims to evoke a contemporary reflection on how these powerful representations of Belgium's colonial past prevail until today and continue to affect our perception.



With the support of Le Fonds cantonal d'art contemporain Genève ( FCAC)
Photography by Serge Fruehauf